Product Features
---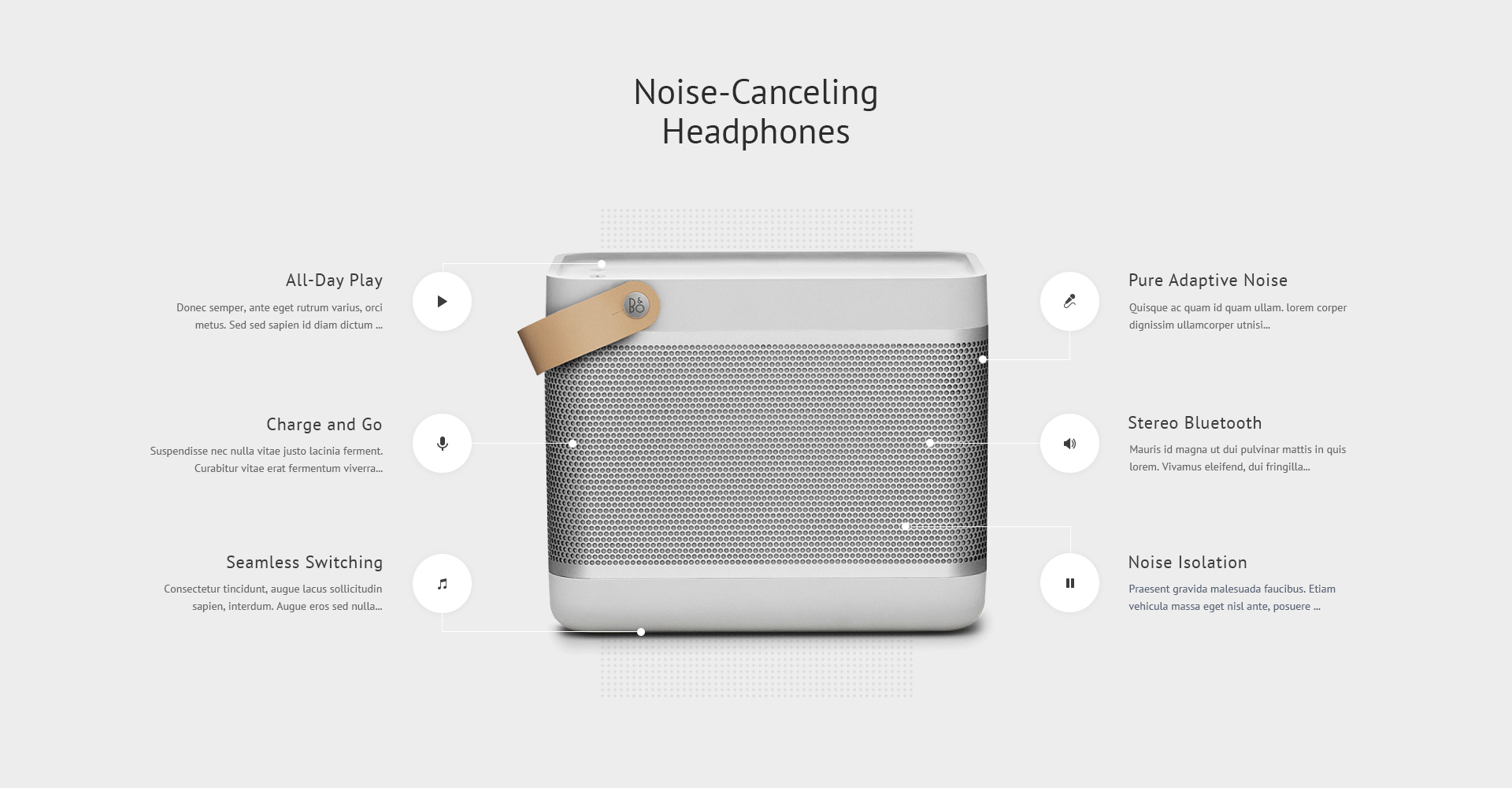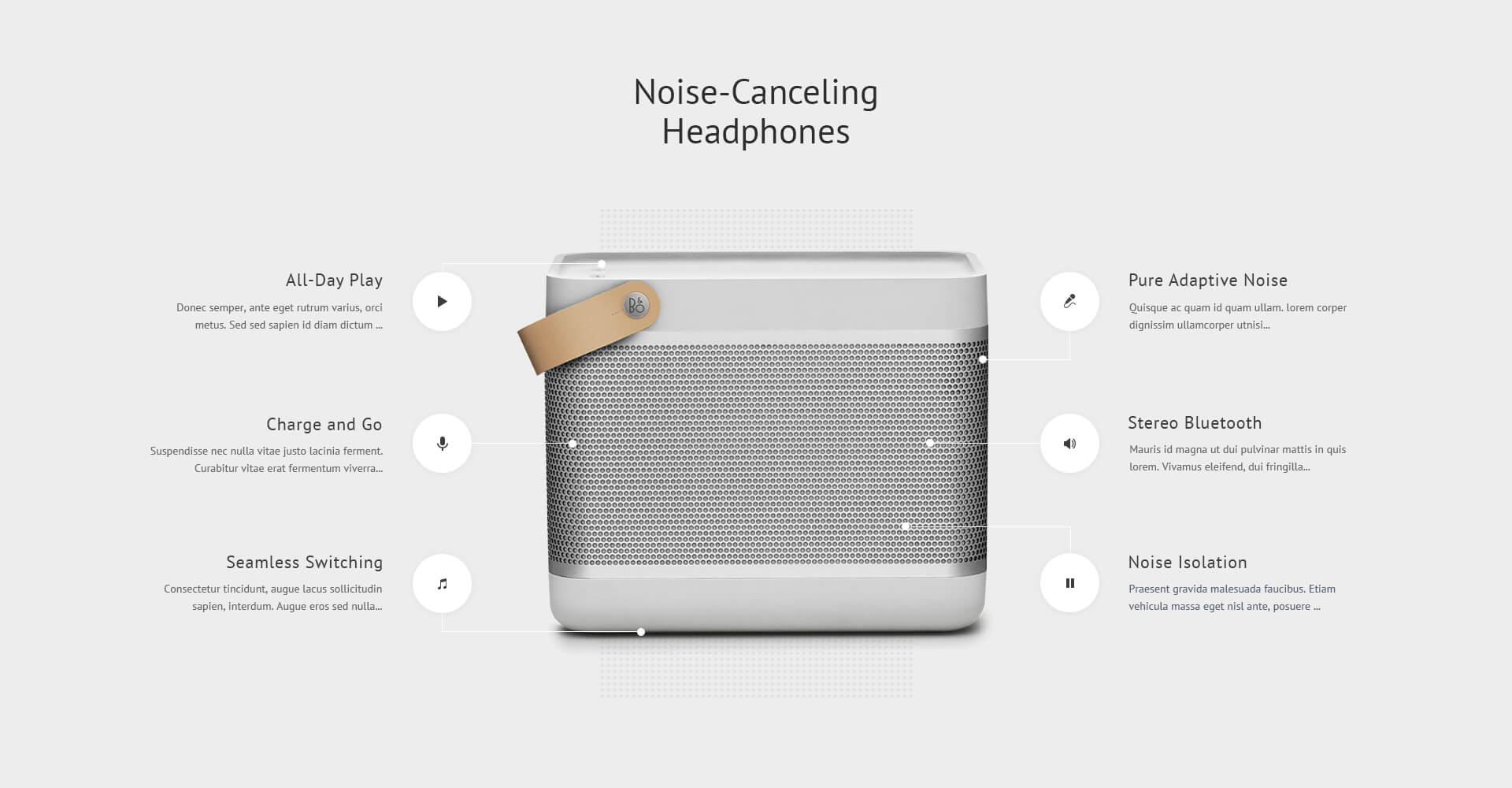 You can show this section for selected products only.
Navigate to store Admin > product
Go to the products list > and select the product to add feature section.
Go to the Selected product detailed page and then upload product image of recomended resolution 602x620 pixel in .png format.


Click uploaded image to open and then click on edit alt text button.
Add [vnd_special] in the text field and then input title. Use <br> for line break.


Go to the product customization page and see the the product uploaded image.
---
Section content list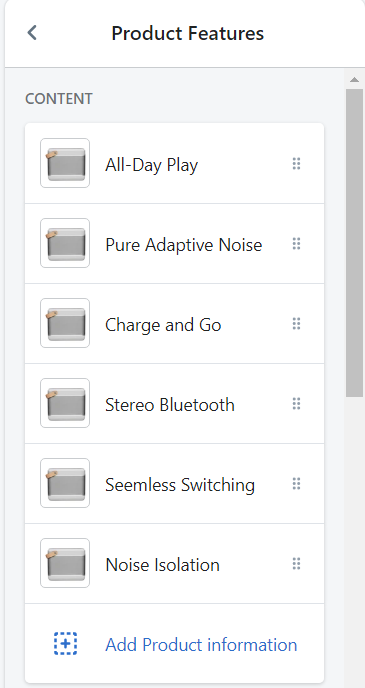 Add or edit block contents. You can attach blocks to products. ( There is an option to choose the target product in this block settings.)
All-Day Play: Setup section contents
Pure Adaptive Noise: Set the block title
Charge and Go: Setup section contents
Stereo Bluetooth: Setup section contents
Seemless Switching : Setup section contents
Noise Isolation : Setup section contents
Block content setting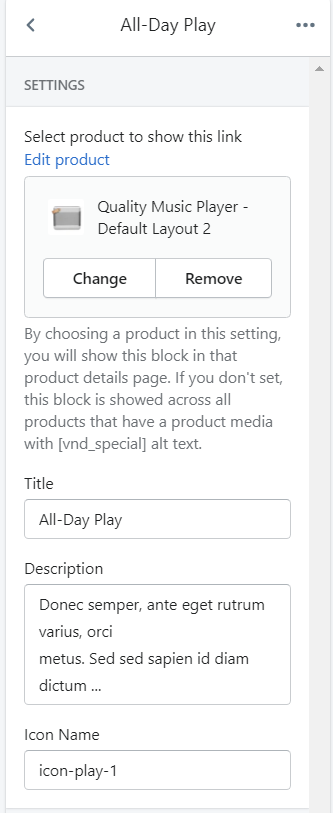 Select product to show this link: By choosing a product in this setting, you will show this block in that product details page. If you dont set, This block is showed across all products that have a product media with [vnd_special] alt text.
Title: Set the block title
Description: Block description
Icon Name: SVG icon name. Browse icons
Section setting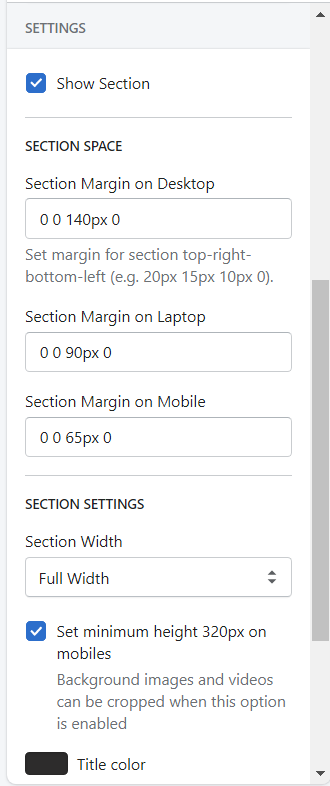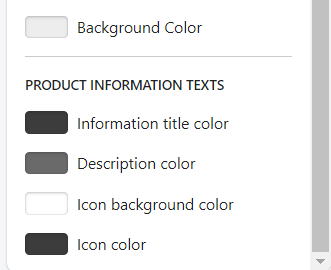 Show/Hide this section: You can hide this section if you don't want to it.
Section Space:

Set space between other sections

Section Margin on Desktop: Set margin for section top-right-bottom-left (e.g. 20px 15px 10px 0).
Section Margin on Laptop: Set margin for section top-right-bottom-left
Section Margin on Mobile: Set margin for mobile d
Section Settings

Section Width: Fix and Full width
Set minimum height 320px on mobiles: Background images and videos can be cropped when this option is enabled
Title color: Set Title color
Background ColorSet Background color
Product Information Texts:

Set colors of text and icons

Information title color: Set Information title color
Description color: Set Description color
Icon background color: Set Icon background color
Icon color: Set Icon color
---